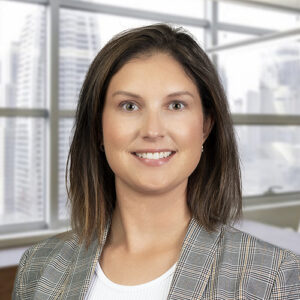 Tawny Roeder worked for more than 11 years as a patient services nurse coordinator for Nebraska Medicine, the state's top-ranked hospital and among the leading cancer treatment centers in the country. In that role, she witnessed how the high cost of medical care can be a barrier to treatment for patients.
"It's absolutely devastating and should not have to be something they face," she said.
Roeder recently joined NASH as its Patient Services Nurse Coordinator, which allows her to play an integral role in removing barriers to medical care for patients. Roeder utilizes her extensive experience in patient care, which includes coordinating evaluations, procedures and the management of medications. At Nebraska Medicine, she worked closely with patients in oncology, bone morrow transplantation and cell therapy.
With NASH, she cares for patients from start to finish in their journey, always focusing on their safety. Roeder helps provide continuity of care with a patient's primary care physician to ensure seamless transfer from one phase to the next.
NASH offers this continuity of care and focus on safety, combined with substantial cost savings for specialty medications and surgical procedures, as part of its unique Travel-for-Treatment model. Roeder joined NASH because of its revolutionary approach to providing affordable healthcare, as well as its commitment to the patient experience.
"I'm excited that the Travel-for-Treatment model has been developed so thoughtfully, putting the patient first. Every detail is arranged safely and effectively, which elevates patient care," she said. "There is nothing better than seeing the patient thrive after much needed care has improved their quality of life."
Roeder also brings perspective as a patient who received life-saving medical care. She's a 15-year lymphoma survivor after being diagnosed her senior year of nursing school. Since then, she's worked with the Lymphoma Research Foundation and The Leukemia & Lymphoma Society to promote awareness and raise funds in support of cancer patients.
"My empathy from the patient perspective definitely has helped me become the nurse I am today," Roeder said.
Read more about NASH's unique Travel-for-Treatment model that focuses on affordability, safety and positive health outcomes.